The Yes Australian
Tour Site
INTRODUCTION
NOTE: IF YOU'VE BEEN HERE BEFORE, CHECK THE TOUR AND SITE NEWS PAGE FOR NEW DEVELOPMENTS.
This web-site was established in 2002 for a special event - the first Australian tour by the classic rock group Yes in 30 years. The tour, and the series of events which took place around it, was spectacularly successful - thanks mainly to the activities of YESFANZ (the Yes Festival for Australia and New Zealand), of which I'm also a member. The band-members themselves were so impressed by the tour - and our efforts - that another tour was being arranged for November/December 2004 - though this has now fallen through (but we could start looking forward to another visit in mid-2005).
For the latest official news on Yes, check www.yesworld.com (the official Yes site). YESFANZ also has its own site - www.yesfanz.com. My site - the you're on now - is designed to "fill in the blanks" and help introduce the band to fans, existing or potential, young and old, alike.
Here you'll find: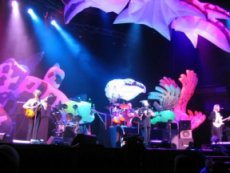 - news about the tour and associated events, as it becomes available;
- reports about the 2003 Sydney concert, the "Sunday events" and a Roger Dean Lecture;
- information about the band - its history and recordings;
- information about the 2003 support band, Sebastian Hardie;
- information about YESFANZ, its festivals, other activities and YESOLOGY;
- links to related sites about the band and its followers, plus a F. A. Q. Section; and
- information about me, my various web-sites and musical activities.

Comments and feedback about the site are always appreciated - email me at avanstar@ihug.com.au with constructive thoughts, ideas, errors, omissions, etc. I particularly welcome input from Yes fans around Australia - old and new.
"WHY ARE THE TOURS SO SPECIAL?"
Two reasons - Yes and Australia.
Yes - one of the world's top bands - have been around since 1968, in various line-ups. For the Australian tours, the group comprises its "classic" and arguably best line-up: Jon Anderson (vocals), Steve Howe (guitar), Chris Squire (bass), Alan White (drums) and Rick Wakeman (keyboards - who rejoined the band in 2002). Coincidentally, this is the same lineup that toured here in 1973.
The 2003 tour wouldn't have happened but for the work of YESFANZ - who I became involved with in late 2001/early 2002. YESFANZ petitioned the band to tour, negotiated with the promoter, ran festivals on the afternoons of the Sydney and Melbourne concerts, contacted the press, printed promotional T-shirts and bags and helped organise an exhibition of Roger Dean artwork.

THE 2003 AND 2005(?) TOUR DETAILS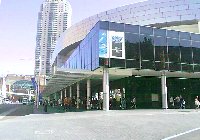 For 2003, the concert dates were:
- September 19, 2003: Melbourne - Vodafone Arena;
- September 20, 2003: Sydney - Sydney Entertainment Centre; and
- September 23, 2003: Perth (quickly announced, following the cancellation of a Djakarta show).

For 2005(?), patrons can look forward to a spectacular Roger Dean-designed stage set, a substantially different set-list, an "acoustic" interlude mid-concert, and, miraculously, performances that just keep getting better and better. Check here for more details.

"I HAVEN'T HEARD OF YES (RECENTLY)"
Yes is a group of virtuoso musicians and entertainers - individually and collectively admired as being amongst the top of their fields. They play intricate, demanding and often long (15 - 20 minute) pieces of music - but, at the same time, their music is accessible and uplifting. They continue to inspire rapturous devotion amongst fans.
The group has been active throughout its 35-year career - having recorded over 30 albums (Videos, DVDs and DVD-Audio discs are available). During the few years (in the early 1980's) when the band wasn't active, its members were still either recording or being on the road. Yes regularly tour America, and head off to Europe and beyond whenever they can.
Recent tours include:

- The "Full Circle/35th Anniversary" tour (2003-4): where, touring with Rick Wakeman again, the band again found its musical direction. This is, more or less, where the band is up to - while still introducing innovations such as the Roger Dean stage and "acoustic" mini-set.
- "Yes Symphonic" tour (2001): where Anderson, Howe, Squire and White played with various orchestras (and keyboard players) across America and Europe/Russia. This was done to support the orchestral "Magnification" album (an excellent DVD is available);
- "The Ladder" and "Masterworks" tours (1997-2000): where the band played with keyboard player Igor Khoroshev and additional guitarist Billy Sherwood). This was done to support "The Ladder" album, and to re-introduce a collection of their longer works.
"WHAT ALBUMS/VIDEOS/DVDS SHOULD I BUY?"

None - if you don't want to - but it helps to be familiar with their music. A fairly complete history and evaluation the band's record releases can be found on the history page. All of the bands albums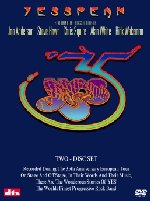 up to "90125" (except the live "Yessongs") have now also been remastered with added bonus tracks.
A selection of their best albums includes:

- "Close To The Edge" (1972): with Bill Bruford on drums;
- "Relayer" (1975): with Patrick Moraz on keyboards;
- "Going For The One" (1977): with the current line-up;
- "In A Word" (2002): a 5-CD retrospective, with booklet, in a stunning package; and
- "Ultimate Yes" (2003-4): a 2/3 CD "best of" (particularly the American 3CD release with newly-recorded songs);

The best available videos/DVDs are:

- "House of Yes - Live From The House of Blues" (1999): with expatriate Russian virtuoso keyboardist Igor Khoroshev;
- "Yes Symphonic Live" (2001): with the European Festival Orchestra and keyboardist Tom Brislin; and
- "Yes - Acoustic" (2004): a relatively short (less than an hour) acoustic set, recorded with the current line-up.
- An interview-based DVD - "YesSpeak" (with some live material - shot during the band's 2003 tour of Europe/England) was released in 2004 (see pic above).
- A new live DVD "Songs From Tsongas" - is being released world-wide for 2004/5.
A list of currently available DVDs and videos (with my opinions of them) is on the F.A.Q. page - check www.warnervision.com.au for local DVD and DVD-A releases.
"WHAT IF I WANT TO TRAVEL FOR YES TOURS?"
Get in contact with the "Leaves We Touch" group - dedicated to assisting Yes fans travelling away from home to catch their favourite band - check the Links page for details. Yes fans are, to the last, a friendly and accommodating bunch of people eager to help out their fellow fans and swap stories.
Or you can simply make your own accommodation - using local your travel agent or by booking through the internet. Or contact any of the YESFANZ people.
"WHERE DO YOU FIT IN WITH ALL THIS?"
Hi. I'm Alex van Starrex - I'm a member of the YESFANZ committee. More details of my involvement with that group are noted here.
I have transcribed, (re)arranged, performed and recorded several pieces of Yes music for solo-guitar. My first Yes-based CD, recorded in February 2002, was called "Yes Tales" - three tracks are available from my mp3 site for free streaming and/or downloading. More information about me - including my web-sites and other CDs - can be found on my personal page on the site.
But this site isn't (mainly) about me - it's about one of my favourite bands.
"WHAT OTHER MATERIAL MIGHT APPEARING ON-SITE HERE?"
Opinions, anecdotes, photos, (licensed) material - whatever people want to see, read or talk about.
So stay tuned and get involved!
---
Introduction - Tour & Site News - Who's Who In Yes - The History Of Yes - YESFANZ Inc - Alex van Starrex - Sebastian Hardie
F. A. Q. Section - 2003 Sydney Concert - 2003 Sunday Events - A Roger Dean Lecture - Links & Comments
---
MY MAIN WEB-SITE: http://homepages.ihug.com.au/~avanstar
EMAIL: avanstar@ihug.com.au
© Alex van Starrex