Alex van Starrex
INTRODUCTION
Hi. I'm Alex van Starrex - an "internet musician" in my spare time, and a Yes fan (on and off) since 1976. Having been a committee member of YESFANZ for 18 months before the eventual 2003 tour (and festival), I witnessed its development almost from conception to end. This site was developed to compliment the main YESFANZ site - but at the same time trying to offer anything that might lack - to help publicise and boost attendances for the shows.
I'm currently using this as my "home page" - since I haven't updated my other sites for a long time. Here is a list of those sites (with "reservations" in orange) - and some general things that may be of interest to people (check the F. A. Q. Page if it all starts to get 'too much'):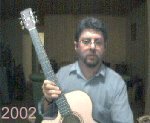 MY MAIN WEB SITE
- THE ALEX VAN STARREX WEBSITE - The "Sydney Morning Herald" "Best personal site on the Web" (September 1999) (established April, 1998). Over 100 pages, with over 1,000 links and 150 on-site search engines, RealVideos, MIDI files, and much more. NOTE: I've stopped updating this site now - it functions as a "museum piece" (whether it stays up is even debatable).
MY MP3 SITE
- http://www.mp3.com.au/AlexVanStarrex/ - with around 5,000 downloads and streams in its first 6 months (established July, 2002 - I play guitar, bass, keyboards, percussion, etc. on these). There are currently 42 MP3s here - check the F. A. Q. Page for a list of recommended songs for Yes fans. I've added no new content to this for about two years - this may change for 2004/5, though.

There are also dedicated songs for fans of other groups - The Beatles, Led Zeppelin, Deep Purple, etc. - amongst the 28 others. "Ditto" and another song are also featured on the alt.music.yes 2CD release "Cyberian Khatru" - check www.amycd.com for details (though both songs were edited in the process).
MY REALVIDEO SITE
- A Virtual Serenade - 50 Popular Songs In RealVideo - with 50 short, original acoustic guitar arrangements (including 3 Yes songs) on video (established late 1999). NOTE: Geocities occasionally blocks access to the site in the event of excess traffic. If you find the site inaccessible, try again later. This site is around 5 years old now.
MUSICAL GRAFFITI: MY MED-MOD SITE
- http://www.angelfire.com/oz/med/ - 18 hours of music with a player-program and psychedelic screensaver - all downloadable as a 3.8 MB zip-file (established August/September, 2003). The ultimate music-site for long songs and quick downloads (the longest song - lasting over an hour takes less than a minute to download - even over a 56k conNection). THIS IS NOW "CLOSED", though the content is due to re-appear soon (elsewhere) - a new, updated zip-file is now available.

MY MPG VIDEO & TABLATURE SITE
- http://www.smartgroups.com/vault/avsguitar/ - THIS IS NOW "CLOSED", though I have all the files saved.
MY CDs
I have over 100 original, home-recorded CDs available - details are at http://homepages.tig.com.au/~avanstar/avsmycd.html. How? Check my musical history at http://homepages.tig.com.au/~avanstar/avsmuso.html. As with my main site (at top), the content for this section hasn't been updated for some time.
MY ORIGINAL SOLO GUITAR ARRANGEMENTS
I have around 350 arrangements of popular songs worked out - a list is at http://homepages.tig.com.au/~avanstar/avsgtsg.html. See below for some more recent RealAudio (and RealVideo) examples of my work. Almost no "tablature" files of my guitar work are available - check the F. A. Q. Page for more details.
For example, "Illusions" is a solo-guitar CD that I recorded on 15 February, 2003 - it features original arrangements of the following songs:
01. Kashmir - Led Zeppelin
02. Maybe I'm Amazed - Paul McCartney
03. Mood For A Day - Yes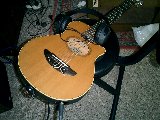 04. Little Wing - Jimi Hendrix
05. Strawberry Fields Forever - The Beatles
06. The Rain Song - Led Zeppelin
07. And You And I - Yes
08. Smoke On the Water - Deep Purple
09. A Whiter Shade Of Pale - Procul Harum
10. Just The Way You Are - Billy Joel
11. This Guy's In Love With You - Herb Alpert
12. Stairway To Heaven - Led Zeppelin
13. Something - The Beatles
14. Light My Fire - The Doors/Jose Feliciano
15. Angie - The Rolling Stones
16. Bohemian Rhapsody - Queen
17. Child In Time - Deep Purple
18. How Deep Is Your Love (take) - The Bee Gees

It's OK, but my current best solo-guitar CD is called "Love and Pain" - a collection of popular love songs. It plays as a song-cycle - representing an emotional relationship from start to finish. Like all my CDs, this is being privately distributed - contact me if you want copies.
MY YES-RELATED RECORDINGS
I have a solo-guitar CD, recorded in February 2002, called "Yes Tales" - three tracks are available from my mp3 site for free streaming and/or downloading. All the CD's tracks are available in mp3 form on my "Axeology" CD-ROM - together with:

- 13 outtakes from the same "recording session";
- a total 143 mp3s of my guitar playing;
- 62 mpg videos, plus 120 RealVideos; and
- player-programs for both PC and Mac,

all presented in a web-site style interface.
Check the YESFANZ page for details of my (many) follow-up CDs to "Yes Tales".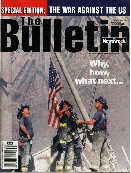 MY FEATURE IN "THE BULLETIN" MAGAZINE
I was featured in "The Bulletin" magazine - Australia's equivalent to "Time" or "Newsweek" - in September, 2001 - in an article (with other artists) about musicians who use the internet. Here is the online version of my section (with a shortened version of the text), while here is a full-size scan of the original.
I was hoping to use the feature as a stepping stone towards performing overseas - particularly in America. Unfortunately the issue featuring the interview hit the streets on exactly the same morning as "9/11". Not only was it disheartening, but the issue was withdrawn after a few days to be replaced by a special "war" edition (pictured right), with the interview in a different place.
All in all, it didn't seem like a good time to capitalise on the feature - particularly in America. But times change...
NEW FOR 2004/5 - CDS, VIDEOS, DVDS, LIVE GIGS

I've started recording more electric-guitar based CDs. I'm also toying with the idea of putting a band together - but this depends on having the right musicians and material. In the meantime, I'm keeping quite busy musically.

Video-tapes and DVDs of my guitar-playing should soon be available - I'm currently getting my "hands dirty" with the technology. And live gigs should follow sometime later (other than one-off, "just take my guitar along" events - which I have been doing).
AVS ON MARS



A DVD-ROM with my name encoded in it (and about 3.5 million other people) is now on the surface of Mars, thanks to NASA. Who knows how useful this may be in times to come - to people from Earth, and "elsewhere". Here are some links:
- Mars Exploration Rover - 2003 Mission Participation Certificate - I always wanted to be an astronaut (this is the next best thing);
- MER - This explains the background and functions of the DVD-ROM; and
- Sign uo for Mars! - here's the disk on Mars (hopefully they won't bring it back soon).
Meanwhile, Yes have had a minor planet named after them - check out "7707(Yes)" around http://www.harvard.edu/cfa/ps/special/rocknroll/0007707.html (I couldn't 'cut & paste' the exact link).
As mentioned earlier, check - or help add to - the The F.A.Q. page for any further information about me.
---
Introduction - Tour & Site News - Who's Who In Yes - The History Of Yes - YESFANZ Inc - Alex van Starrex - Sebastian Hardie
F. A. Q. Section - 2003 Sydney Concert - 2003 Sunday Events - A Roger Dean Lecture - Links & Comments
---
MY MAIN WEB-SITE: http://homepages.ihug.com.au/~avanstar
EMAIL: avanstar@ihug.com.au
© Alex van Starrex