Who's Who In Yes
INTRODUCTION

- THE "HYPE"
This page only features current members of the band - the History Of Yes page features a chronology of the various members who have played in it, plus a discography. Individual band-member sites - and links to various online interviews - are listed on the Links & Comments page.
JON ANDERSON - LEAD VOCALS (+ PERCUSSION, GUITAR, KEYBOARDS)
Ethereal, wistful, deeply spiritual, psychedelic, or just plain off-the-planet - Jon Anderson seems to exist as sort some of existential opposite to (ex-Black Sabbath singer and current TV celebrity) Ozzy Osbourne.
CHRIS SQUIRE - BASS (+ VOCALS)
A towering (6.5 foot) but gentle giant, Chris Squire is the one constant member of Yes who has seen through each incarnation of its 34-year career. He and drummer Alan White form a powerhouse rhythm section.
STEVE HOWE - GUITAR (+ VOCALS)
Steve Howe is an amazingly versatile guitarist - in terms of both style (rock, classical, folk, country) and choice of guitars (electric, steel-string acoustic, classical, pedal-steel, etc.). He shies away from rock-clichés to present music of often-startling originality.
RICK WAKEMAN - KEYBOARDS (+ MORE KEYBOARDS)
There must be few music-fans around who haven't heard of Rick Wakeman by now - by reputation alone, if not his recordings. He is a virtuoso, in every sense of the word, also with numerous (early) sessions - from Cat Stevens to David Bowie - and solo-albums to his credit.
ALAN WHITE - DRUMS, PERCUSSION (+ VOCALS, PIANO)
Alan is a true gentleman - and a drummer with a powerhouse sound. Something of a classical pianist as well, Alan is credited as the impetus behind "In The Presence of" - from "Magnification".
HOW I FOUND THE BAND, PERSONALLY
I had a few opportunities to meet the band-members during the tour. Unfortunately, this was usually in the presence of a few hundred other fans eager for autographs, photos and so on - check the Sydney concert and the Sunday events pages for some pictures. But it was long enough to at least gain a quick impression of each member
- Jon seemed just an average kind of guy - appreciative, somewhat bemused and keeping any "spacey" thoughts at bay;
- Chris seemed to be the proverbial 'party animal' - in social situations, either drinking or recovering from same;
- Steve seemed quite intolerant of socialising - unsmiling, yet still incredibly focussed and level-headed;
- Rick was genuinely sociable and talkative - extremely kind and generous with his fans; while
- Alan was just a nice guy - and openly dedicated to his family.
ROGER DEAN AND HIS STAGE DESIGN
Roger almost has the status of a band-member - particularly since his stage-design is being used for the current tour. The design is based around a series of inflatable sections (supposed to be lit from within), along with "extensions" emphasising the role of different band-members. There have been some "teething" problems with aspects of the set (particularly the lighting) - but few people have failed to be impressed with the results.
Here's a recent picture of the band in concert - this also indicates something of the size of Roger Dean's set. It's possible that one or two sections won't be appearing in Australia, since they won't quite fit in the smaller-venue stages. This won't, however, detract from the spectacle of the whole show.
THE 2004 SET-LIST
Compared to, say, the set-list from the 2003 Sydney Concert, there are an astonishing number of changes this year. The band is also making more changes (inclusions and exclusions) from show to show. A "perfect" set-list - including (impossibly) almost all of this year's songs - would look something like this:

1. Opening set
Firebird Suite (finale - by Stravinsky)
Going For The One (from "Going For The One")
Sweet Dreams (from "Time & A Word")
I've Seen All Good People (from "The Yes Album")
Mind Drive (from "Keys To Ascension"/"Keysstudio")
South Side Of The Sky (from "Fragile")
Turn Of The Century (from "Going For The One")
Foot Prints (from "Keys To Ascension"/"Keysstudio")
Mind Drive (Conclusion) (from "Keys To Ascension"/"Keysstudio")
Yours Is No Disgrace (from "The Yes Album")
2. Acoustic set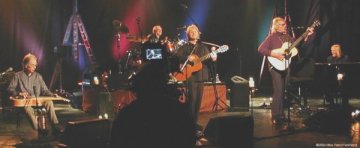 The Meeting (from "Anderson Bruford Wakeman Howe")
Long Distance Runaround (from "Fragile")
Wonderous Stories (from "Going For The One")
Time Is Time (from "Magnification")
Roundabout (from "Fragile")
Show Me (Jon Anderson - solo-song/American "Ultimate Yes" set)
Second Initial (Steve Howe - solo)

3. Closing set

Rick Wakeman Solo (solo)
Long Distance Runaround/Whitefish/On The Silent Wings Of Freedom (includes Chris Squire 'solo')
Owner Of A Lonely Heart (from "90125")
Rhythm Of Love (from "Big Generator")
And You And I (from "Fragile")
Ritual (from "Tales From Topographic Oceans")
Starship Trooper (from "The Yes Album")
Every Little Thing (from "Yes")

Other songs played this year include Close To The Edge (as an opener!) and Soon (from The Gates of Delirium) (as a closer). I would say expect the above set-list - minus about 4-6 songs (as to which ones, though - wait and see on the night). It's even possible the acoustic set may be dropped, in favour of just Jon and Steve's solo spots.

SOME PAST CONCERTS - IN STREAMING VIDEO (VARIOUS FORMATS)
- http://sfx-yes.liveonline.net/ - a streaming concert from the "Masterworks" tour;
- www.progradio.net/prog2k/yes/ - the "House Of Blues" concert (plus "Homeworld" from "The Ladder");
- House of Blues Concert Archives Yes - the same concert as above (if it's still up).
---
Introduction - Tour & Site News - Who's Who In Yes - The History Of Yes - YESFANZ Inc - Alex van Starrex - Sebastian Hardie
F. A. Q. Section - 2003 Sydney Concert - 2003 Sunday Events - A Roger Dean Lecture - Links & Comments
---
MY MAIN WEB-SITE: http://homepages.ihug.com.au/~avanstar
EMAIL: avanstar@ihug.com.au
© Alex van Starrex