The History of Yes
INTRODUCTION
This is just a short introduction for those who don't know - or don't want to know - too much about the band. I've put some links in here for those wanting to read more online. Then again, there are also some biographies available, most notably: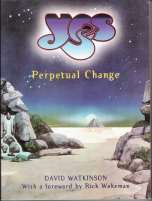 - "Close To Edge" by Chris Welch (which I have);
- "Perpetual Change" by David Watkinson; and
- "Yes - An Endless Dream..." by Stuart Chambers.
The "YesYears" video/DVD and "YesSpeak" DVD are available, while on record the new (5 CD) "In a Word" compilations 'can be located' - look on the 'net, or at specialist record stores. Various shorter "best-of" collections are around, though none of these are particularly up-to-date nor satisfactory, given the band's 34 year/30+album career. Check the F. A. Q. page for details - and my opinions - of the various DVD and video releases.
RELATED LINKS
- "Rock Family Tree" for Yes - (though this runs out just before Rick Wakeman's return in 2002)
- Alt.music.yes FAQ - extensive hard to locate infomation and FAQs;
- Perpetual Change - Thirty Years of Yes - the official biography site;
- Forgotten Yesterdays - A Comprehensive Guide To Yes Shows - history of their live performances;
- YesEvents - A Musical History of Yes - a fan site; and finally; while
- Here is a list of the Yes-related material in my music collection.
---
NOTE: Click on an album title to hear 30-second soundbites from various tracks in RealAudio - courtesy of www.cduniverse.com. Also, a number of albums - up to "90125" (as at September 2004) have been remastered, with bonus tracks and additional photos and liner-notes in the cover booklets.
00. Pre-Yes (19xx - 1968)
Yes formed from a core of singer Jon Anderson and bassist Chris Squire. Jon had most notably been in a band called The Warriors, while Chris had played in The Syn and Mabel Greer's Toy Shop.
01. Anderson, Squire, Banks, Kaye, Bruford (1968-1970)
This first lineup of the band - Jon Anderson (lead vocals), Chris Squire (bass and vocals), Peter Banks (guitar), Tony Kaye (keyboards) and Bill Bruford (drums and percussion) - recorded the albums "Yes" and "Time and A Word".

YES (1969) - I don't have this album, though I have some individual tracks. Even so, I suppose it could classified as late 60's psychedelic pop. The group's talent for adding and extending musical ideas - both in their own compositions and those from other groups (e.g. The Beatles) is already apparent.
TIME AND A WORD (1970) - Recorded with an orchestra, this shows the band stretching out with some adventurous ideas. Fans of the later Yes line-ups will still find much to appreciate in these early albums.

Banks never liked the orchestra-idea, and eventually quit the band - though, by this time, they has already built up quite a following.
02. Anderson, Squire, Howe, Kaye, Bruford (1970-1971)
Steve Howe (guitar and vocals) joined the band to record "The Yes Album". He had played in the seminal-psychedelic band Tomorrow, then his own trio Bodast, before agreeing to join Yes (he'd already auditioned for and/or been asked to join both Jethro Tull and Keith Emerson's The Nice).

THE YES ALBUM (1971) - The contains many of the "classic" Yes songs, though I find the production rather "dry". With a few rare exceptions the canon of later (and current) Yes songs basically starts here. An added component is the engineering work of Eddie Offord, who lends his skills to mould the band's sound.
Tony Kaye then left the band, to be replaced by keyboard-whiz Rick Wakeman. Together they recorded "Fragile" and "Close To The Edge" - and some songs from the live "Yessongs" triple album.

FRAGILE (1972) - A collection of classic band tracks, interspersed with solo-ideas from all the band members. Overall the solo-based songs provide contrast, but not continuity - though some are now classics in their own right.
CLOSE TO THE EDGE (1972) - Another classic album - this time featuring the 18-minute title track. This is probably the album regarded by most as the group's masterpiece and most-representative work. Again, the sound is a little "dry".

03. Anderson, Squire, Howe, Wakeman, White (1972-1974)
Bruford left to join King Crimson, and was replaced by Alan White - most famous for his work with John Lennon's Plastic Ono Band. Together they recorded most of the live "Yessongs" set (3 LP/2 CD), then the double album "Tales From Topographic Oceans".

YESSONGS (1973) - A vibrant collection (and even reinterpretation) of Yes' music to date, though with somewhat dodgy sound. White's drumming moves the band in a different direction - rock-based, but full of drama and excitement.
TALES FROM TOPOGRAPHIC OCEANS (1973) - This epic double album - featuring 4 side-long pieces, mortified the music critics and led to Yes being widely criticised for musical indulgence. This is a difficult set to "get into" - but persistence pays off, and it's now regarded highly. The music was sketched out during the band's first Australian tour.

04. Anderson, Squire, Howe, Moraz, White (1974-1976)
Wakeman left while the band toured on the "Tales"album. Several new keyboard players were tried - including Vangelis. Ultimately Swiss keyboardist Patrick Moraz joined the band for the "Relayer" album and tour. The difficulty of filling Wakeman's shoes (cape?) extended to live performances, though the rest of the band seems fueled towards greater intensity to cover this.

RELAYER (1974) - A move towards brisk, fusion-based material - due, mostly, to the influence of Moraz. Together with White's masterful drumming and Howe's thin Telecaster-based licks, this album seems "out of character" - though many prefer it just for this reason.
YESTERDAYS (1974) - A combination of one lengthy non-album piece from the Bruford/Wakeman era - "America" - with songs from the first 2 albums. A stop-gap measure, though also providing an entry point for fans to discover the band's early work.

A few tracks from this lineup later appeared on the live double live LP "Yesshows". All band members also recorded solo albums during this period.
SOLO ALBUMS - All band members record solo albums at this point in time (the departed Wakeman already having released a number of works). Anderson's "Olias Of Sunhillow" and Squire's "Fish Out Of Water" are the most highly-regarded - I'm a fan of both 'Olias' and Howe's "Beginnings". White's "Ramshackled" is probably a bit too un-Yeslike for most fans.

05. Anderson, Squire, Howe, Wakeman, White (1977-1979)
Though originally (re)hired as a session musician, Rick rejoined the band for the "Going For The One" and "Tormato" albums. This turns out to be a golden age, though the recordings (particularly later) don't always reflect it. This lineup also recorded the balance of the "Yesshows" double album.

GOING FOR THE ONE (1977) - Another certified classic Yes album - probably the first since "Close To The Edge". This contains the epic "Awaken" - since cited by Anderson as a summation of "everything that (he) could ever want in a piece of Yes music".
TORMATO (1978) - A somewhat strange and patchy album, though the supporting tour featured arguably their best playing (and marked the band's 10th anniversary). This was the second album - after "Tales" - to be derided by many fans and critics alike, though I'm fond of its somewhat unambitious nature.

Recording for a follow-up in Paris was a disaster, which saw Wakeman and Anderson leave the band.
06. Horn, Squire, Howe, Downes, White (1980)
Trevor Horn (lead vocal, occasional bass) and Geoff Downes (keyboards) - a.k.a. "The Buggles" - joined the remaining Yes members for the Drama album.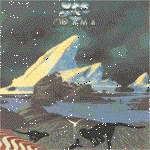 DRAMA (1980) - A tense and dramatic album, but missing the ethereal presence of Jon Anderson. This is an altogether leaner and rockier version of Yes - one that laid the foundations for the "90125"-era incarnation of the band.
The American tour for Drama was a success but English fans treated the newcomers - particularly Horn - with disdain. After that, everyone but Howe left. Howe, in turn formed "Asia" with Downes, while Squire and White tried hooking up with Jimmy Page for the projected band "XYZ" (ex-Yes and Zeppelin).
07. Anderson, Squire, Rabin, Kaye, White (1982-1988)
Squire and White then formed a collaboration with South African pop superstar Trevor Rabin. The new band - to be called "Cinema" - recruited ex-Yes member Tony Kaye. A group of recordings, produced by ex-Yesman Trevor Horn, needed something extra, so Jon Anderson was brought in - at which point it became a new Yes. During this period, the lineup recorded "90125" and "Big Generator".
90125 (1983) - A huge commercial hit - due to "Owner Of a Lonely Heart" - but not really a Yes album to my ears. But it kept the band in the public eye and probably ensured its future.
BIG GENERATOR (1987) - Quite a good record - but a painfully-long recording time (around 2 years) resulted in it losing its edge. Still, this is easily the most Yes-like of the Rabin-era albums.

After a while, they also did some of the tracks on "Union".
08. Anderson, (Levin), Howe, Wakeman, Bruford (1989-1990)
Anderson jumped ship to team up with the 'classic' Yes players to form "Anderson Bruford Wakeman Howe" (with Tony Levin on bass) - recording the ABWH album and toured with an additional keyboardist and guitarist. The live "An Evening of Yes Music Plus" video/album had a stand-in bassist, as Tony was ill.

ANDERSON BRUFORD WAKEMAN HOWE (1989) - Something a little different, with lots of interesting songs.
The band also recorded most of the "Union" tracks, though session musicians were later brought in to play by the producer.
09. Anderson, Squire, Rabin + Howe, Kaye + Wakeman, White + Bruford (1991)
Litigation "from" the real and now-diminished Yes threw a spanner in AWBH's touring plans. Meanwhile Anderson starting lending a hand to some of their recordings.
UNION (1991) - An annoying pastiche of (remaining) Yes "demos" and new AWBH songs, with a truckload of session musicians covering up the continuity flaws. But, aside from hardcore fans and the band members themselves, many people like the album.

This 8-member lineup toured to support the "Union" album - to great success and satisfaction - though they never recorded together in the studio.
10. Anderson, Squire, Rabin, Kaye, White (1992-1994)
After the Union tour finished, the 90125/Big Generator lineup continued - to record "Talk".
TALK (1994) - More a Rabin album than a Yes album, digitally/computer recorded to even greater annoyance. Definitely one for Rabin-fans.

Billy Sherwood, an associate of Rick's, first played with the band during the Talk tour, then became a full member.
11. Anderson, Squire, Howe, White, Wakeman (1995-1996)
Trevor Rabin left - to go into movie work - Steve Howe rejoined. Then Rick Wakeman rejoined the band and Sherwood became the producer. This was for the "Keys To Ascension" concerts and studios sessions - which were packaged together.

KEYS TO ASCENSION (1996) - A reasonable live album and a half, with 2 studio cuts added. Both studio tracks are more of a "Yes by the numbers" works and, to my ears, unsatisfying. The live performances are good, but there's talk of vocal overdubs for the CD and video/DVD recordings.
KEYS TO ASCENSION 2 (1997) - The balance of the KTA concert with a superlative disc of new studio songs.

The "Keystudio" CD - released a few years later - eventually contained all the "Keys To Ascension" studio tracks.
NOTE: The "Keys To Ascension" studios tracks were later re-edited to produce "Keystudio" - I prefer the KTA2 studio disc.
12. Anderson, Squire, Howe + Sherwood, Khoroshev, White (1997-2000)
Igor (a.k.a. Ivan) Khoroshev then join the band - first as a session musician - then an associate (he never became a full member).

OPEN YOUR EYES (1997) - I, like most fans, only like a couple of tracks from this album - which originally started of as a Chris Squire solo project. At least it got the band out on the road again - Khoroshev only plays on 3 tracks.
With Khoroshev playing a more active role, "The Ladder" album (1999) was then recorded. Afterwards, the band did "The Ladder" tour, followed by the "Masterworks" tour.
THE LADDER (1999) - An accessible and commercial album (for those who like their music this way). I now find this unsatisfying - from a lack of instrumental passages.

Khoroshev then left in somewhat dubious circumstances (which won't be mentioned here) - leaving the band without a keyboard player.
13. Anderson, Squire, Howe, White + Brislin & ors, Orchestra/s (2001-2002)
In a surprising twist, the band recorded their next album with an orchestra - featuring the "backgrounds and fills" of Larry Groupe.
MAGNIFICATION (2001) - An epic album - though I'm a little non-plussed by the effort. It's sonically impressive, but the songs are rather simple and the band abandons any attempt at fast tempos.

The band toured this way - using a succession of "pick-up" orchestras for America and the European Youth Orchestra for Europe and Russia. Young keyboardist Tom Brislin handled a lot of the keyboard work (though Alan White also plays some pieces).
14. Anderson, Squire, Howe, Wakeman, White (2002-?)
In 2002 Rick Wakeman rejoins the band for the "Full Circle" and "35th Anniversary" tours - documented, so far, on the "YesSpeak" and "Yes Acoustic" DVDs.
All sorts of factors:
- expectations (and fears) for the 2003 tour;
- wishes and speculation about playlists;
- being a witness (only) to rampant trading in existing live recordings;
- having already accumulated a large collection of live MP3s; and
- the recent availability of Led Zeppelin's "DVD" (with 5 hours of live video)
led me to compile a CD-ROM called "Yes - The Big Dream - Live: 1969 - 2002 in MP3".
The disc plays in any (MP3) compatible DVD-player or computer and runs for around 10.5 hours. Here is a list of the contents - as readers will see, I've tried to present (as a compliment to existing official releases) the whole spectrum of Yes' live history in a single disc. Exactly how and why I'll make or send copies of this disc are still unclear, however (though I'm open to suggestions).
---
Introduction - Tour & Site News - Who's Who In Yes - The History Of Yes - YESFANZ Inc - Alex van Starrex - Sebastian Hardie
F. A. Q. Section - 2003 Sydney Concert - 2003 Sunday Events - A Roger Dean Lecture - Links & Comments
---
MY MAIN WEB-SITE: http://homepages.ihug.com.au/~avanstar
EMAIL: avanstar@ihug.com.au
© Alex van Starrex