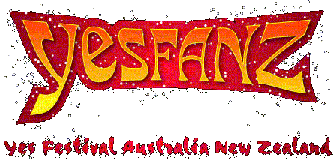 INTRODUCTION
This page is devoted to the activities of YESFANZ Incorporated - www.yesfanz.com - the "YES Festival for Australia and New Zealand" (of which I became a committee member in late 2001/early 2002). We worked very hard to organise a range of events in addition to the main concerts, themselves - most of which are detailed below. Check the YESFANZ section of the F.A.Q. page for some background information about YESFANZ - and further down the current page for a report and photos of the Sydney festival.
And, of course, check the Tour & Site News page for the latest developments with YESFANZ Inc. and the 2004 Yes Australian tour.
INCORPORATION AND MEMBERSHIP
YESFANZ became an "Inc." in early 2004 - for a number of reasons. Some of these had to do with business concerns from our 2003 activities - others were due to the greater flexibility and scope that this could add to our operations (with an eye to future plans). Our "mission" as an incorporated body is (more or less) to help the interests of Yes and other progressive music in Australia.
We are still a non-profit organisation - and our primary functions are still to help publicise the band, and to conduct (and subsidise) festivals in association with the planned concerts. Beyond that, the requirements and benefits or membership are somewhat in a state of flux (though there is no present intention to charge membership fees). We do, however, constantly encourage new members - and feedback from existing ones.
Being in YESFANZ has its advantages - but few of these can be "guaranteed" (other than meeting and talking with other fans). So far, it's also allowed:
- news on the latest developments with the band and Roger Dean;
- advance ticket-sales for the concerts;
- knowledge of, and attendance at, the festival/s and other events (Borders Records signing, GIG Gallery, Roger Dean lecture);
- several opportunities to meet the band and Roger Dean; and
- acquisition, purchase and/or trading in live concert recordings, official photos, posters, stickers, T-shirts and other material (of which I still have too much).

For 2004, time restraints and lack of certainty over venues/dates is causing a problem. But being in YESFANZ is the only way to ensure that readers can stay "in the loop". I'm still amazed by the number of people who didn't know - or didn't find in time about - last years activities (i.e. our potential members, and those potential ticket sales for the band) - so join now, if you are at all inclined.
MERCHANDISE: T-SHIRTS, STICKERS, FLYERS AND CALICO BAGS
YESFANZ (with the approval and assistance of promoter Michael Chugg) made two print-runs of special YESFANZ T-shirts for the 2003 tour. Check the Tour & Site News page for a look at the earlier T-shirt (the "new improved" T-shirt is still available) - order them through www.yesfanz.com. Compared with the official merchandise, our designs are cheap and attractive.
A number of designs have been worked-on for ('bumper' and 'windscreen') stickers and promotional, A4-size 'flyers'. Some of these are available through www.yesfanz.com - for people to print out themselves. But the main merchandising push for YESFANZ was - and still is - calico bags.
Personally, I think excessive bag-production may be the "undoing" of YESFANZ. Every one produced has to be paid for - one way or another. Otherwise, it's great to go out shopping and travelling with these things.
THE 2003 FESTIVALS
YESFANZ held special celebrations, in rooms at the Sydney and Melbourne venues, in the hours before each concert. There was:
- food, drinks and catering;
- a display of privately-owned Roger Dean artwork and Yes memorabilia;
- (planned) personal appearances by Roger Dean, Sebastian Hardie and Yes;
- DVDs/video projections for entertainment;
- memento-bags for each person attending, with "freebies"; and
- lucky door-prizes (with prizes having been donated from several sources).
A planned "Native Aboriginal tribal welcome" for the Sydney festival had to be cancelled, from the lack of a confirmed attendance time by the Yes members.
Ticket prices, for both the Melbourne and Sydney YESFANZ festivals, were AU $ 97.00 plus booking fee. Sydney was effectively sold-out (as was the main concert itself), while Melbourne lagged behind in numbers for both. By all accounts, the Melbourne festival ran well - with all members of Yes in attendance for autograph-signing and question from the audience.
In Sydney, a crowd of 250-300 were treated to a display of privately-owned Roger Dean artwork and Yes memorabilia, DVD concert-projections, food, drinks, a guest appearance by Roger Dean, a 'press conference' with Sebastian Hardie and "rock brain of the universe" Glenn A Baker, autograph sessions, door-prizes (including a couple of my Yes solo-guitar CDs), shared memories and anticipation of the coming concert. Yes had been promised to attend (at least by some people) but - in Sydney, anyway - failed to show. To be fair, they made for it later - by announcing a YESFANZ-only 'meet & greet' uptown, after the show. Roger Dean signed both my flyer for his local exhibition of works coinciding with the tour - check www.giggallery.com - and the outer cover of my remastered "Tales" (check the photos on this and the The Sunday events page).
YESSTORIES, MATE - AND BEYOND
"YESSTORIES, MATE" was an initiative of mine, allowing local Yes fans to tell the band - and each other - short stories of how and why Yes means so much to them. We needed written contributions from Australian and New Zealand fans (even those not attending the concerts). The best contributions were to be collated and published - on the internet, as well as in printed form - and given to the members of Yes.
Unfortunately the idea was never properly pushed - probably since a reprint of the original YESFANZ invitation to the band was organised for the festival bags. This was a shame - as I'd recorded a special "Yesstories, Mate" CD (solo-guitar arrangements of Yes music). The track-list is:
- 01. Every Little Thing (3:59);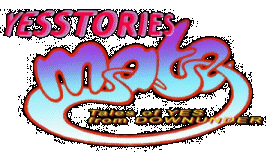 - 02. Time And A Word (3:24);
- 03. Your Move (4:45);
- 04. Mood For a Day (3:39)
- 05. And You And I (8:42);
- 06. The Revealing Science Of God (13:35);
- 07. The Gates Of Delirium (19:45);
- 08. Awaken (14:12);
- 09. Onward (4:15).
I went on to record some successors to "Yesstories, Mate" - most notably:
- "Classical Yes" - copies of which became door-prizes at the Sydney and Melbourne parties; and
- "Alex van Starrex plays Yes" - I gave a copy of this to Jon Anderson at the Borders book/CD-signing.
If this sounds too confusing, then I'll just add this...
Two others CDs, "Yes Time" and "Yes Works" - earlier attempts to do a new Yes CD - were recorded a month or two previously - while my original Yes-CD "Yes Tales", (recorded in 2002) is mentioned on my personal page of the site - with a picture of the cover being on the Introduction page. And a mini-CD of tracks 2 to (part of) 12 from my live performance at the YESFANZ reunion (see below) has found its way back to the band.
ROGER DEAN EXHIBITION
YESFANZ also helped to organise a visit by noted Yes-related artist, Roger Dean. Roger attended the opening of his exhibition at the GIG-Gallery on the day after the Sydney concert - (as did most of Yes - check the Sunday events page for a report) - and gave a lecture at Glebe Town Hall the following Thursday (check here for my report on that).
Due to popular demand, the exhibition was extended from its initial closing date to 16 November, 2003.
YESFANZ-REUNION - NOVEMBER 2003
There were a few impromptu meetings of YESFANZ members following the Yes concert - most importantly for an "official reunion" celebration at the Roxbury Hotel, Glebe on 9 November 2003. It turned out to be a fairly low-key affair, but I bought my guitar along anyway, intending to to play "two or three songs". Due to the positive audience reaction, though, my planned set-list grew a little - as can be seen in the following.
The set was recorded by me - copies of the CD are available. Most of the first 'set' is available here as RealAudio files - which "stream" over the 'net if you click the title, or download if you click the "download" link. Duration and file-size of the RealAudio files are shown in brackets.
- 01. The Ancient (2:23);
- 02. Mood For a Day (2:00);
- 03. Your Move (1:23);
- 04. Awaken (2:08);
- 05. The Revealing Science Of God (0:30);
- 06. The Gates Of Delirium (3:31);
- 07. In The Presence Of (1:38);
- 08. And You And I (4:14);
- 09. Yours Is No Disgrace (1:48);
- 10. Roundabout (0:30);
- 11. Close To The Edge(2:31);
- 12. (applause) (0:11);
- 13. I Want To Hold Your Hand (Beatles) (1:40)
- 14. (some farewells) (0:45);
- 15. Rocky Raccoon (Beatles) (0:44);
- 16. Stairway To Heaven (Led Zeppelin) (0:12);
- 17. The Rain Song (Led Zeppelin) (0:44);
- 18. A Whiter Shade Of Pale (Procul Harum) (2:24);
- 19. Bizarre Love Triangle (New Order/Frente) (1:41);
- 20. Blackbird (Beatles) (0:17);
- 21. A Light In The Black (Rainbow) (0:12);
- 22. Moonlight Sonata (Beethoven)(0:39);
- 23. Mood For A Day (reprise) (0:59);
- 24. Give Love Each Day (0:26)
- 25.Sound Out The Galleon (Jon Anderson) (2:06);
- 26. Brother Of Mine (AWBH) (0:58);
- 27. (applause & requests) (0:31);
- 28. Stairway To Heaven (with 'recording-check') (3:27);
- 29. Kashmir (Led Zeppelin) (0:48);
- 30. There's No Business Like Show Business (1:04);
- 31. And You And I (reprise)(0:23);
- 32. Your Song (Elton John) (0:44);
- 33. You Really Got A Hold On Me (Beatles) (1:40)
- 34. Four Moments (Sebastian Hardie) (1:49);
- 35. Rosanna (Sebastian Hardie) (1:01);
- 36. White Queen (chords)(Queen) (1:09);
- 37. Every Little Thing (Beatles/Yes) (1:33);
- 38. Time & A Word/Owner Of A Lonely Heart (0:12);
- 39. The Ancient (reprise) (1:18);
- 40. (final applause) (0:08);
TOTAL TIME: 52:46

AN AUSTRALIAN PROGRESSIVE ROCK FESTIVAL
YESFANZ would like to see a local progressive rock/music festival up and running - a sub-committee was formed to look into the possibility of making this happen - but whether it ever gets around to happening is another matter, due to delays in finalising the 2004 Yes tour. Check the Tour & Site News page for any more details.
YESOLOGY
People eager and willing to learn more about Yes can enroll (for US $ 29.00) in Yesology, an online course with the College of Southern Idaho - set up by the school's O. Gary Lauer and YESFANZ's own Alan Farley. Yesology is "a self-paced online course that provides the uninitiated new listener with a sturdy platform to explore the dynamic music of Yes while stimulating the interest of the already dedicated Yes fan." Yesology students download lectures in preparation for 81 tests based around periods, lineups and albums.
Rumour quickly spread about Roger Dean's reaction on seeing a copy of the mountainous syllabus text, while here in Sydney (the word "insane" was used, but I think in a nice way). From my own firsthand observation, though, there isn't much that Alan doesn't know about Yes - so the course comes highly recommended. Having this site on the curriculum helps, too - though, since the RealMedia files were barred, I may have to provide audio and video files in some other way.
Other than that, I'm not connected with the course - but here are some links for it:
- Yesology - the direct course link; and
- http://www.billboard.com/bb/tangledweb/article_display.jsp?vnu_content_id=2016326 - a review in Billboard magazine about the course.

---
Introduction - Tour & Site News - Who's Who In Yes - The History Of Yes - YESFANZ Inc - Alex van Starrex - Sebastian Hardie
F. A. Q. Section - 2003 Sydney Concert - 2003 Sunday Events - A Roger Dean Lecture - Links & Comments
---
MY MAIN WEB-SITE: http://homepages.ihug.com.au/~avanstar
EMAIL: avanstar@ihug.com.au
© Alex van Starrex