The 2003 Sydney Concert
INTRODUCTION
My summary: a perfect concert! The review here is basically on the one I've already posted to the Forgotten Yesterdays web-site and on alt.music.yes - the photographs are all my own (for the moment). I know others have better pictures than these, so I will post-up the best performance photos that anyone can email me (the pictures may be reduced &/or cropped, but due credit will be given) . Also, email me with any interesting reviews, comments, anecdotes, etc. that you may want to have included on-site.
THE YESFANZ FESTIVAL
A special pre-concert festival - run by YESFANZ ran from 3:00pm to 6:00pm. Check the YESFANZ page for photos and a general report. This was the first time in 30years that such a crowd of Yes fans had ever assembled in Sydney - even if this situation would change very soon.
There were some obvious concerns due to the previous night's events (in Melbourne, Yes/Steve Howe's sound-technician had literally cut-off Sebastian Hardie's power on-stage because they were running overtime). Sebastian Hardie openly put the incident behind them, but it was an unfortunate event that could have been prevented. But, even considering this, everyone had a great time at the festival.
THE CONCERT
To accommodate any possible 'problems', Sebastian Hardie were rescheduled to start 15 minutes earlier - but many people lost the chance to catch their opening, while queueing for tour merchandise. The expensive tour merchandise (many people openly baulked at the AU $70.00 top line T-shirts) should have gone on sale much earlier either way. Still, Sebastian Hardie made the most of the situation and played an impressive set to win over their 'home crowd'. I thought the pressure of working to time-restraints took its toll on the band's own enjoyment of the set - and guitarist/singer Mario Millo confirmed this to me later.
Before I move to Yes' performance, mention must be made of 'that' sound technician from the previous night. With due regard to his flawless work in setting-up and moving instruments (particularly Howe's guitars) on and off-stage, he was a too-obvious presence - due to his size and (perceived) attitude. After all, the Melbourne crowd has booed him off stage the previous night.
(NOTE: The photos below were taken during Yes' encore - when everyone was on their feet. My 'normal' view was much better.)
Back to positive events, though - the concert seemed to be a complete sell-out. Yes came out to a standing ovation and played almost every song to the same response. That, and the rapt given attention during each song, was remarked upon by Jon - who said the 'combination' took his breath away. The mood created by the set-list was "Fragile Revisited+" - in keeping with Rick's return to the fold and the promise of some amazing years ahead.
Okay - now for an annotated set-list:
1. Siberian Khatru: This seemed to start a little slow, but the pace picked up quickly enough. Steve - performing with real fire, precision and enjoyment (for the whole concert) - played a fine solo (on his brown Gibson ES-335).
2. Magnification: Rick's revision (and transformation) of the orchestral parts put a real fire under this song. Those seated closer to him mentioned the amount of sheet music he had to read during it, but the results were certainly worth the effort.
3. Don't Kill The Whale: Not a major 'work' - but, following immediately after the climax of Magnification, it helps to resolve the mood. Steve switched to his red Gibson Les Paul for this song.
4. In The Presence Of: Another song brought back to life from Rick, with plenty of dramatic engagement from Chris during the quiet moments. In my mind, having Rick around for these 'Magnification' songs reclaims them as "full" Yes songs.
5. We Have Heaven/South Side Of The Sky: 'Heaven' really benefitted (as did the entire concert) from the general lack of pre-recorded vocals, in favour of electronic vocal harmonisation (in contrast to earlier tours - especially "Symphonic"). "South Side" absolutely rocked - with Rick and Steve's 'call and response' soloing being a real musical high-point of the show.
6. And You And I: Flawless - so there isn't much I can say about it. Rick added "freshness" - as he does to many songs nowadays - by changing some of his "old" keyboard lines.
7. To Be Over/Clap: Steve's solo - the first 'solo' spot. To Be Over (performed at length and, again, flawlessly) was a huge crowd-pleaser, and another piece to gain considerable post-concert comment from the fans.
8. Tulip/Happy Birthday/Show Me: Started by Jon alone. It was obvious that Jon - and the whole band - were having an immensely enjoyable time on stage.
9. Rick's solo: Brilliant - and concentrating almost exclusively on "The Six Wives of Henry VIII". Rick lavished attention on his parts, and the 28-year old album seemed to come alive again as he played.
10. Heart Of The Sunrise: "On the count of four" it started - and never let up pace. With due respect to their many later works, this is probably Yes' most impressive piece of music (especially to non-Yes fans) - and is one of those "must do" (and "must hear") songs.
11. Long Distance Runaround/Whitefish/On The Silent Wings Of Freedom: Chris and Alan's solo-spot/s - played powerfully and precisely. To me, the joys of this performance were, the length of the 'Freedom' quote, and the presense of the whole band stayed onstage so much of the time (making it more than an empty 'breather space').
12. Awaken: Chris' triple-neck bass never ceases to amaze those who haven't seen it before - and this didn't seem like the first time that Rick had to help him take it off. Steve's 12-string solo was perfect, but Chris' unusual harmonising to the phrase "reaching soul spirit" made me smile (unexpected, but appropriate).
Encore:
13. I've Seen All Good People: Jon was running around the stage, encouraging each section of the audience to get up and 'boogie' to the latter part. Sydney audiences - who generally sit like 'stunned mullets' during concerts - did their best to oblige.
14. Roundabout: The closer, with most of the audience still on their feet. As always (nowadays), the song lacks the "Eagle" middle-section - but it was a fine closer all the same.
But I suppose it all had to end sometime and this time - almost half an hour 'over time' - was as good as any (no-one complained afterwards about songs they'd missed out on hearing). All in all, it was a perfect performance, but special mention must be made to the sound. The deep rumbling of Chris' bass-pedals (not to mention the Rickenbacker), the clear vocal-harmonies of Steve and Chris, Jon's clear (and uncongested) vocal delivery and Rick's awesome keyboard ensemble was all heard 'loud and clear'.
(NOTE: for the brilliance of their concerts, Yes' set-list doesn't change much nowadays - compare the above to the setlist a year ago noted on the Who's Who In Yes page).
AFTERWARDS
Anyway, as promised, the band-members made a post-concert appearance (for YESFANZ ticket-holders only) at the Four Seasons Hotel, near Circular Quay - for autographs, photo-opportunities and quick chats. Jon and Steve only stayed a short time, while Chris turned up after the others had left (the only question, I suppose, being what he'd drank in the meantime). I got my program signed by all five members - and went home with one of my lifetime musical amibitions fulfilled.
But there were plenty more Yes-related activities to follow - as the Sunday events page shows.
ANY CONCERT RECORDINGS AVAILABLE?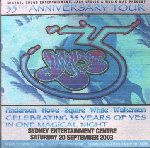 This site isn't set up as a distribution point for bootleg recordings. I have an audience recording, but it's less than ideal. Anyway, the Sydney show was professionally recorded by the band - hopefully an official release should be available soon.
A series of official live recordings should soon be available through www.yesworld.com. Please petition the site for a release of the Sydney concert. Those who have attended this and other concerts of the tour have said it was the best they'd seen/heard.
---
Introduction - Tour & Site News - Who's Who In Yes - The History Of Yes - YESFANZ Inc - Alex van Starrex - Sebastian Hardie
F. A. Q. Section - 2003 Sydney Concert - 2003 Sunday Events - A Roger Dean Lecture - Links & Comments
---
MY MAIN WEB-SITE: http://homepages.ihug.com.au/~avanstar
EMAIL: avanstar@ihug.com.au
© Alex van Starrex